Neuroscience Building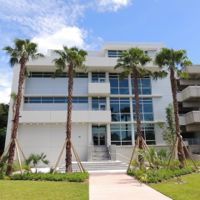 Neuroimaging facility October, 2013
The 1200 square foot MRI facility is housed on the first floor of the three-floor, 37,700 square foot Neuroscience building adjacent to the Cox Science Building on the University of Miami Coral Gables Campus. The facility encompasses a MR scanner suite with associated reception and waiting areas, dressing rooms and a MR simulator/mock scanner suite. The remaining 11,000 square feet on the first floor of the building includes shared space including a large conference/multipurpose room, kitchen, restrooms, behavioral testing rooms, a central server room, a phlebotomy room, and an assay lab.
Neuroimaging Suite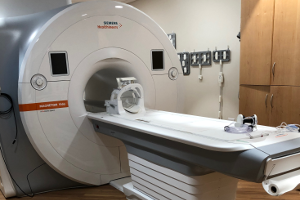 Siemens Magnatom Vida 3.0T MR scanner
The Imaging suite has a state-of-the-art Siemens Magnatom Vida 3.0T MRI Scanner (Erlangen, Germany).  It is a wide bore whole body scanner with high performance gradient system and phased array coils to provide highest possible image quality.  It can perform advance structural and functional imaging for neuro, cardiac, abdominal, and orthopedic imaging. The MR suite is equipped to deliver visual, auditory, and tactile stimuli.  In addition, it has Resoundant Hardware to perform MR elastography of the Liver. 
Equipment
Psychology Software Tools, Inc. Hyperion MRI Digital Projection System, PST-100984
Current Designs 932 fORP Response Devices (4-button diamond, 4-button inline, 5-button Pyka, Trackball2)
Biopac Physiological Recording (Heart rate, respiration, skin conductance response, electrocardiography, electromyography, blood pressure)
Video camera monitoring
Gustometer (Taste-Delivery)
Midwest Composite Technologies MRI System Simulator
Psychology Software Tools, Inc. motrak Head Motion Tracking System, PST-100722
Resoundant for MR Elastography