The UM Clinical Program trains its graduates to be scientists and practitioners, with a strong emphasis on clinical science. The Clinical Program is a founding member of the Academy of Psychological Clinical Science (https://www.acadpsychclinicalscience.org). In addition, the clinical program abides by the American Psychological Association (APA) standards and principles for accreditation and has been continuously accredited by APA since 1966. The APA Commission on Accreditation can be contacted at:
Since 1987, the Psychology Department has been organized into three divisions (Adult, Child, and Health). A fourth division, Cognitive Neuroscience, was added in 2018, but it does not have a clinical training component.
The Clinical Program emphasizes the integration of science and practice. It prepares students to contribute to the advancement of knowledge in the field and to the practice of clinical psychology. In addition to broad and general training in clinical psychology, the UM Clinical Program provides training in four substantive areas of focus: adult clinical, clinical child, pediatric health, and health clinical psychology. As such, the UM Clinical Psychology Program cuts across the department divisions, as indicated below.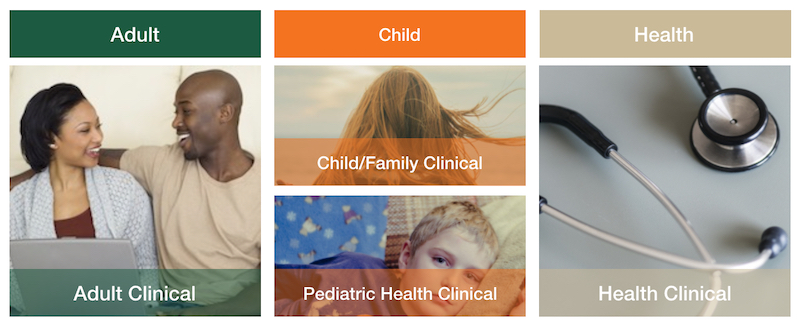 To facilitate the clinical-science training component, the Clinical Program uses a "mentor model" for research training. Applicants are admitted to the program based in part on their "match" with the specific research interests of a faculty mentor. Mentors closely supervise the research activities of the students working in their labs.
---
Applicants to the UM Clinical Program should identify the specific program track and the specific faculty mentor(s) of interest in their application materials.
---